March 28, 2007
Where Will Residents Put Their Cat Litter?
San Francisco to ban plastic grocery bags
SAN FRANCISCO, California (Reuters) -- San Francisco's Board of Supervisors voted Tuesday to become the first U.S. city to ban plastic bags from large supermarkets to help promote recycling.

Under the legislation, beginning in six months large supermarkets and drugstores will not be allowed to offer plastic bags made from petroleum products.
hln
March 17, 2007
Cat and Dog Food Recall
Dogs and Cats Dying of Kidney Failure
A major manufacturer of dog and cat food sold under Wal-Mart, Safeway, Kroger and other store brands recalled 60 million containers of wet pet food Friday after reports of kidney failure and deaths.

An unknown number of cats and dogs suffered kidney failure and about 10 died after eating the affected pet food, Menu Foods said in announcing the North American recall. Product testing has not revealed a link explaining the reported cases of illness and death, the company said.

"At this juncture, we're not 100 percent sure what's happened," said Paul Henderson, the company's president and chief executive officer. However, the recalled products were made using wheat gluten purchased from a new supplier, since dropped for another source, spokeswoman Sarah Tuite said. Wheat gluten is a source of protein.
Store brands of wet pet food appear to be the blame. I'll extend my lesson of buying quality brands to this instance, though I have to point out that the recent Con Agra debacle certainly breaks that law.
Just wanted everyone to be aware. This includes the Schuncks brand locally.
hln
March 15, 2007
Chicken Puree
Back in the pregnancy days, I decided there was no way my baby was going to be fed jarred baby food. Idealistic, maybe, but that's the way it was going to be.
Brian and I go to many book fairs, and I picked up a couple of baby food books, but it wasn't until a woman from church recommended this book,
Mommy Made and Daddy Too
, that I knew I had the book that would make this a reality.
This book tells you month by month what to feed your baby (when to introduce what food), how to select produce, and how to prepare the food. It's not difficult and mainly features a cooking pan, a microwave, an oven, water, and some food that goes with the water and the cooking pan into either the microwave or the oven.
Oh, and then there's the blender.
So we made it through carrot puree, which turns the blender orange. And sweet potato puree - which also turns the blender orange. There's acorn squash puree. Apple puree (maybe you've seen it before; we adults call it applesauce). Pear puree. Plum puree.
But you haven't seen anything until you've seen CHICKEN PUREE.
In the 8th month of life, our helpful book recommends chicken puree. It's simple enough to fix - see the cooking aids I mention above. Microwave some chicken in water. Throw it in the blender with more water. Blend...chicken puree.
But, oh, chicken puree. It's non-spiced, and after it's been blended, the ONLY way you know it's chicken is by smell. It looks a lot like a plaster mixture. It doesn't look like food.
Open mouth, insert spoon. Crinkle nose. Try to do the baby equivalent of chewing (no teeth). The consistency of pure chicken puree really isn't for babies - funny, isn't it? YOU try to eat a plaster mixture. We have since learned that mixed with a vegetable puree - usually squash - it smells a lot like chicken noodle soup, and it's easier to gum. So on to the next adventure.
But, oh, and there's another aspect. Poof - my child's no longer a vegetarian. And that's when you realize - wow, he's really grown up. Some mothers will tell you it's that first haircut (no, he's had 3). For me, it was the chicken puree. See, gone with the chicken puree were the pear-scented diapers. All that pureed produce really doesn't smell that bad after the nutrients are long gone. But chicken - that's a whole other story.
hln
March 14, 2007
Wherein Heather Provides Valuable Insight
Study: Quick Walks May Help Smokers Quit
It's not stated in the article, so I think I'd better add it. Smoking while doing these exercises will not increase your chances of quitting.
hln
March 13, 2007
So, Who Needs a Plane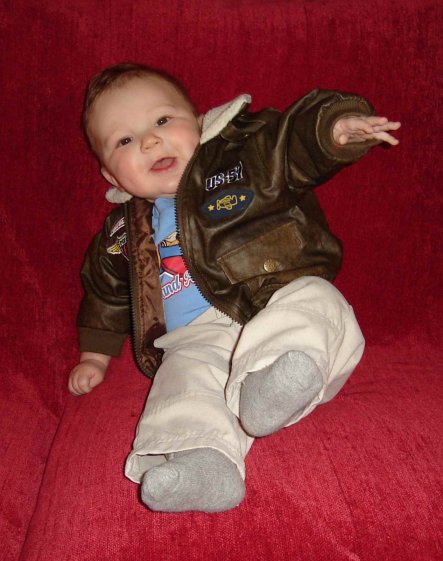 hln
March 11, 2007
The Ultimate Chocolate Chip Cookie Recipe
I know that sounds like a boast, but try it. Per batch...
2 1/4 cups of flour
1/2 teaspoon of salt
1 teaspoon of baking soda
2 eggs
2 sticks of butter (real)
1 tsp vanilla extract (real)
1 tsp almond extract (real)
1/2 cup sugar
1/2 cup brown sugar
Chocolate chips (semi-sweet or dark chocolate) - small package - can't remember size
Mix the flour, baking soda, and salt together in one bowl. In the second bowl, cream the softened butter, almond extract, vanilla extract, and the two types of sugar together. Add the eggs and beat with a mixer..
Add in the flour a bit at a time and beat with a mixer.
Bake at 375 degrees for 4 1/2 minutes. Rotate trays to different racks (top rack's cookies go on bottom and bottom rack's cookies go on top). Bake 4 1/2 more minutes.
This looks a lot like any other chocolate chip cookie recipe you've ever seen. The differences are in red. The almond extract really makes for a tasty cookie base. And the sugar is cut from 3/4 cup of both white and brown sugar, and I promise it tastes better.
hln
March 09, 2007
Indecision
You know. I flirt with it - really, I do. I think to myself - self, you really could find 30 minutes to an hour a day to type - in my usual 100 wpm mode - something into this little MovableType box. Become a blogger again.
You could do that, Heather, you know.
But therein lies the trap. It's easy to write. I do peruse the web news occasionally, and there are about 8 blogs I have on RSS feeds that I try to keep on top of, but BLOGGING requires oh so much more than writing.
So maybe I could be just a writer. Or, in my case, a sort of stream-of-consciousness typist. But that seems so narcissississsissstic (too lazy to look up spelling). And I tell myself, self, who really wants to read about the travails of a 34-year-old mom, her 5 cats, and her rapscallion son and his antics? (If you want to hear about the husband,
he'll help you out there
). And that usually shuts me down every time.
I could write about how to do a successful data integration. But I typically don't geek out here, so who'd want to read that - even though it's more process than technical detail. And, really, is there anyone still reading now - I'm making my point.
So, I'm stopping in to say hi because my urchin should be waking any moment. And then there's the pile of dishes and the several loads of laundry to do (loud chores we suspend during naps). And then I have this marketing website to work on.
I may be back. I may not. I gave it a few good years on a run. And then I took a couple off. And maybe more.
hln